Issuu has a partnership with Stripe, where our selling publishers can collect the payments from Issuu readers only via Stripe.
There are currently some supported countries by Stripe at this time. Click here to see a list of supported countries by Stripe. Currently, supported currencies under Digital Sales are USD, EUR, AUD, CAD or GBP.
Readers can purchase your publications from anywhere in the world with a major debit or credit card.
If you as a publisher want to change default currency to one of the available currencies listed above, please contact Issuu support.
NOTE: Digital Sales is currently not available for Indian publishers. If you are based in India and you want to sell your content, then even though you have an Indian Stripe account, it won't be possible to connect it under Digital Sales to sell on Issuu.
Connecting Your Issuu Account to Stripe
When you set up your first publication for sale, you need to connect an existing Stripe account. You need an activated Stripe account to begin using Digital Sales.
You will be notified to set up the payments on several occasions while preparing your publication for sale. To set up the payments you need to click on the blue button "Connect with Stripe".
A) If you don't have a Stripe account you can create one during the process (see the below).

Once you click on CONNECT WITH STRIPE, it will take you to the STRIPE page for creating an account.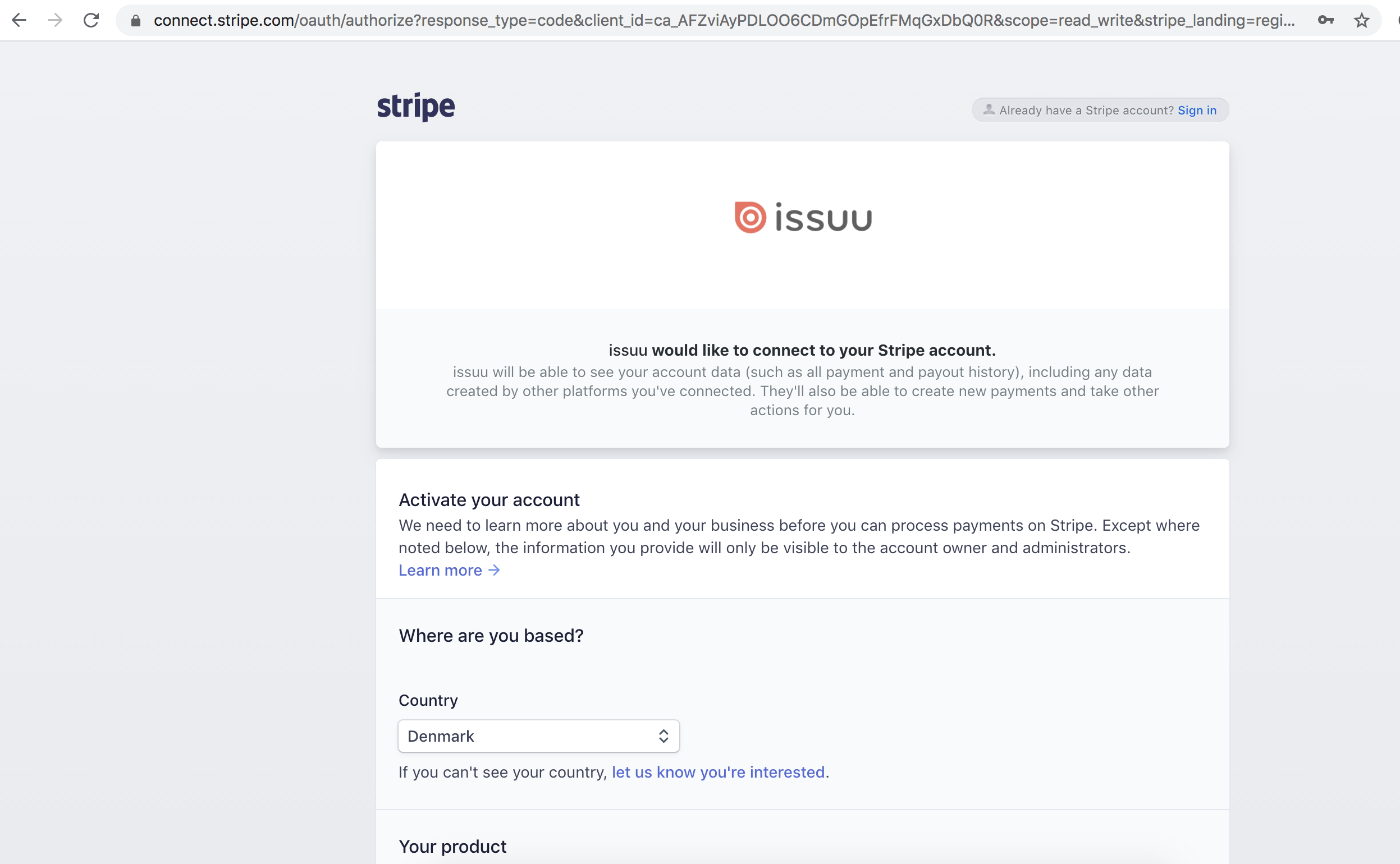 B) If you do have a Stripe account you obviously do not need to create one. Simply click on "Sign in" in the top right corner on the Stripe page (see below).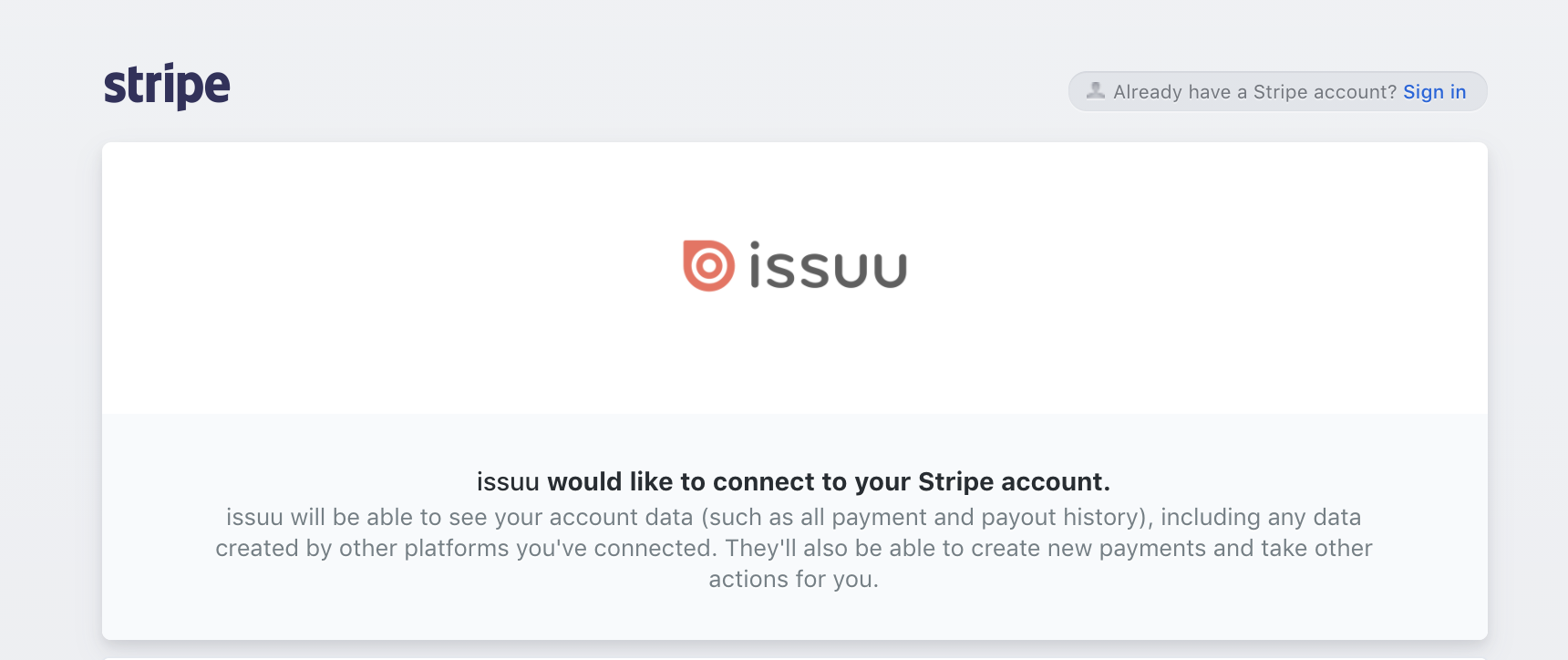 Once signed in, click on "Connect my Stripe account".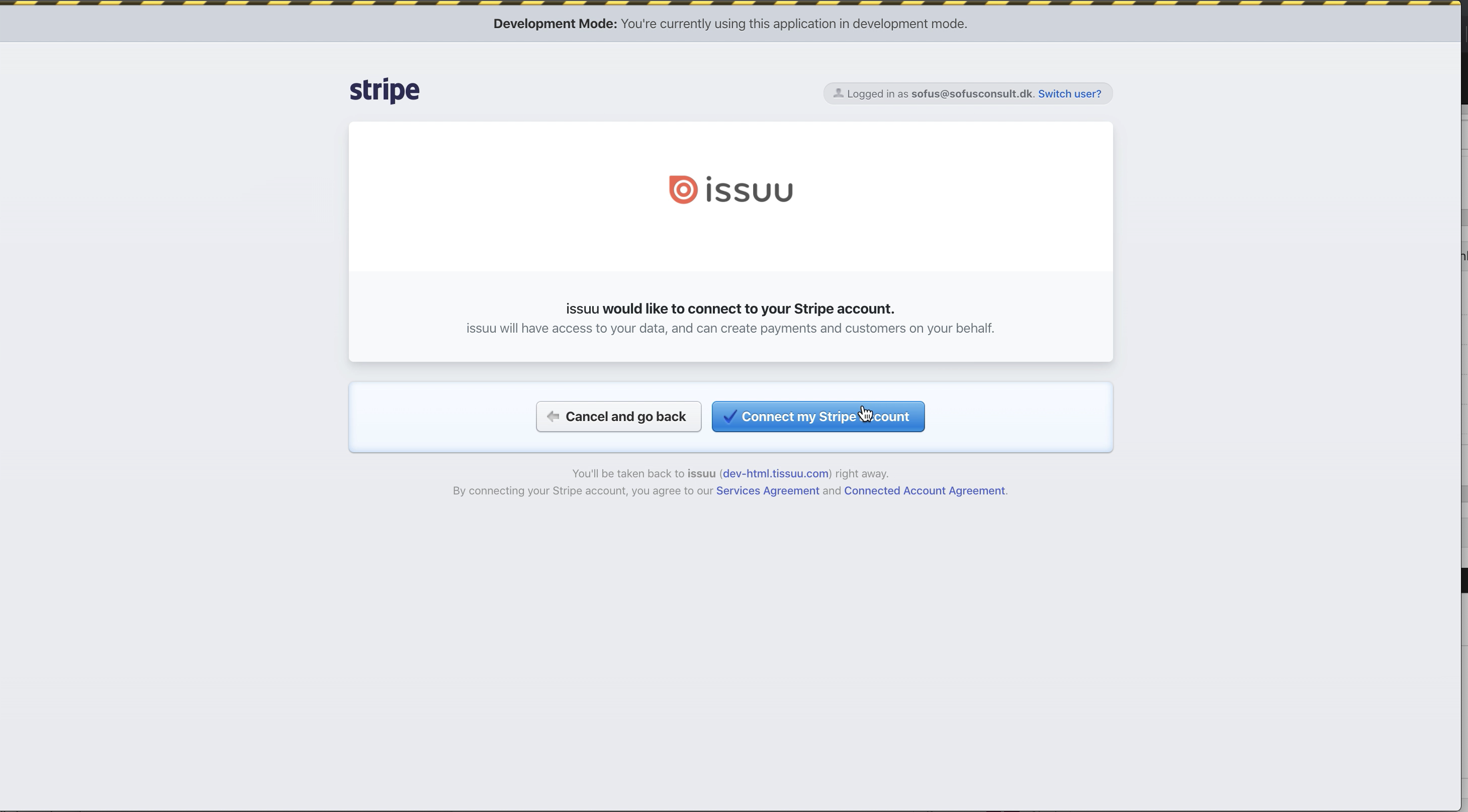 Once you connect your Stripe account, finish the setup on Issuu. Add your support email address that can be used for your customers to contact you, select default currency and review the setup.

Before you can start accepting live payments, you might need to confirm your Stripe email address. In this case, Stripe will send you a verification email. All you need to do is to verify the set up by clicking Confirm email address in the body of the email.
We also suggest checking your Stripe account dashboard because there might be some details about your business that are missing and that you need to submit.
If required, please contact Stripe support to learn why is your Stripe account disabled: https://support.stripe.com
Change Stripe Account
If you need to change the Stripe email address connected to your Issuu account, please contact Issuu support. We will be happy to disconnect the Stripe account on our end and let you choose a new one.
Collecting Payouts
When a reader buys your magazines, the payment is posted directly in your Stripe account, which you can then transfer to your bank account manually or automatically. See the Stripe website for more information on payouts.
Incomplete Payments in Stripe
Once a user enters the payment page for a digital sale publication on Issuu, a payment is initiated at Stripe. Unless the user enters valid credit card details and potential Secure authentication code for the payment, an incomplete payment will be registered at Stripe.
This transaction is initiated every time a user goes to a publication payment page. The "incomplete payment" is not an error. Incomplete payment is registered every time a reader lands on the purchases page but does not enter the credit card details to pay.
That is why unless the user completes all the way to "processing", you will see an incomplete payment in your Stripe dashboard.
Stripe Fees
Stripe fees depend on geography and method of payment. For more information on Stripe fees, go to https://stripe.com/pricing and make sure you are on the correct country version of the Stripe website (can be seen in their footer).
Stripe fees are generally structured with a flat fee of 20-30 cents, plus a percentage for the sale, usually under 3%.
More about Stripe
Check the Stripe website for more info about PCI compliance, disputes and fraud detection, the countries they support and more.