We believe hard-working, independent publishers deserve to be paid by the readers who love their content. Publishers also deserve better than a sales system that simply emails a PDF to paying customers. Through Digital Sales, publishers can sell digital access to their content on Issuu, whether as a subscription or a single issue. All you need to do is set up a Stripe account and share your for-sale content to provide your audience with a great reading experience on any device.  
General Information
You can sell your publications on Issuu with our Premium and Optimum plan 

Readers can enjoy their purchased magazines on any device, using issuu.com 

You can sell a subscription or single issues.

Create enticing preview editions to share on social media

To sell and be able to receive the payment you need a Stripe account. Click here to see a list of Stripe supported countries 
There is no commission fee. 

We decided to waive the Issuu commission fee, with a permanent effect. This means we leave 100% of revenue from Digital Sales to our customers, leaving only credit card transaction fees:

Stripe will automatically take out their own transaction fees (generally 20-30 cents, plus a percentage for the sale, usually under 3%, depending on geography).

 
How to Put Publication for Sale
Login to your account

You can either:
        2.a. Upload a new publication and put it for sale
        2.b. Put existing publication for sale
2.a. New Publication
1. Upload the publication and fill out information like Publication Title, Description, Type, Availability, etc.
2. Click Sell and set the price and currency, create the preview and decide if it should be included in your subscription.
3. Click PUBLISH.
NOTE: While putting your first publication on sale you will have to connect with Stripe (step by step guide for Stripe setup) to accept payments.
2.b. Existing Publication
1. Go to Publications from Side Navigation Menu and select the publication you want to sell. 
2. Click Sell and under SETTINGS set the price and currency, create the preview under PREVIEW PAGES, and decide if the publication should be included in your subscription.
3. Once you set up your publication for sale, you can share and promote your for-sale content.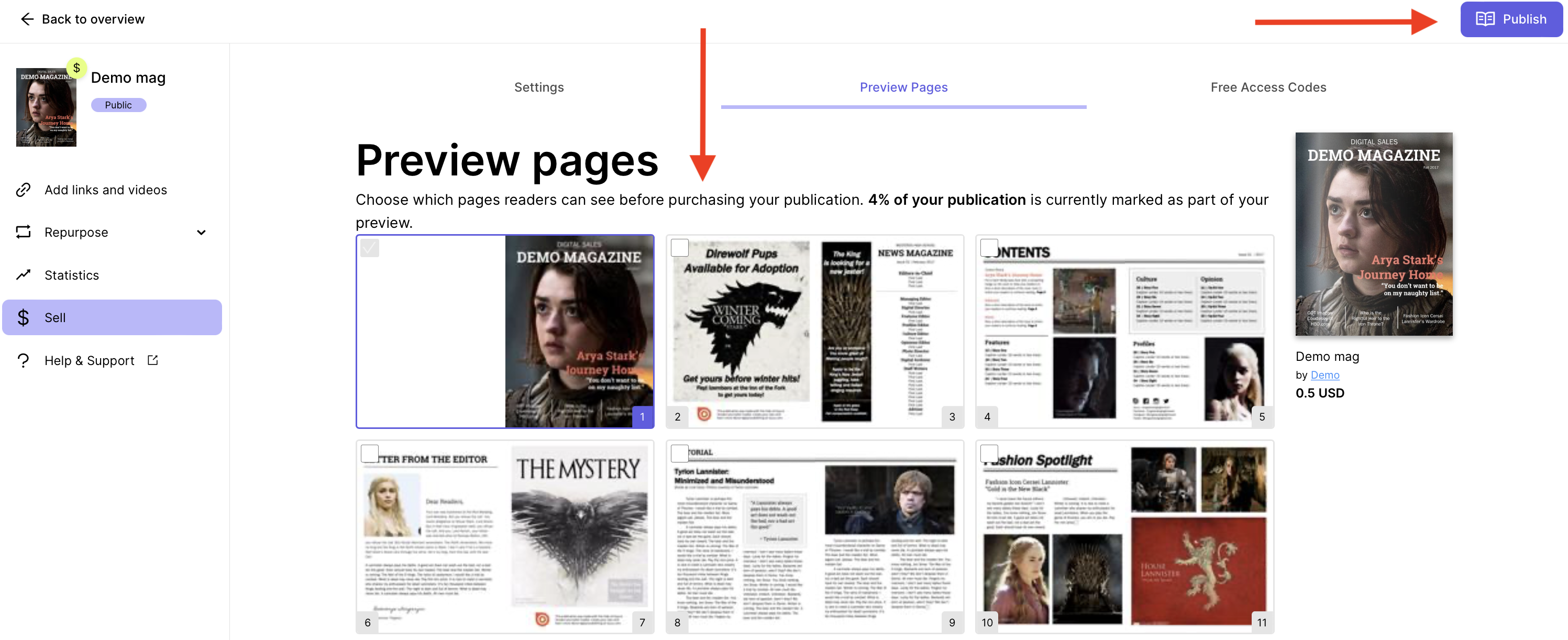 Selling the Publications as a Subscription
You can sell your content as single issues or a subscription on Issuu. Readers who buy a subscription will pay you in advance to automatically receive access each time you publish a new issue.
The subscription works similarly to subscriptions of print publications: Customers pay in advance for the current and upcoming issues. The subscription duration on Issuu is based on number of issues not on time (such as one year).
Subscribers start their subscription with the latest publication and get a new issue when you add another issue to the subscription. When a new issue is added, the previous issue(s) are only available as single purchases.
You will be able to customize the number of issues in the subscription and the price. You can also let your readers know your publishing frequency and how often you plan to launch each new issue.
At the moment it is possible to create one subscription only. Therefore if you offer more titles under one account, you would need to decide which one of them should be offered as a subscription.
Creating a subscription
1. Log in and go to Sales section of your publisher dashboard.
2. Click on the CREATE SUBSCRIPTION button.
Here you can set up the number of issues included in the subscription.

Under Subscription Duration you can select the publishing frequency, so your subscribers know how often they get a new issue.
If none of the options matches your publishing frequency, select OTHER.

You can also set the price of the subscription.

Once you set up your subscription, it's time to share the links and promote your for-sale content to your audience.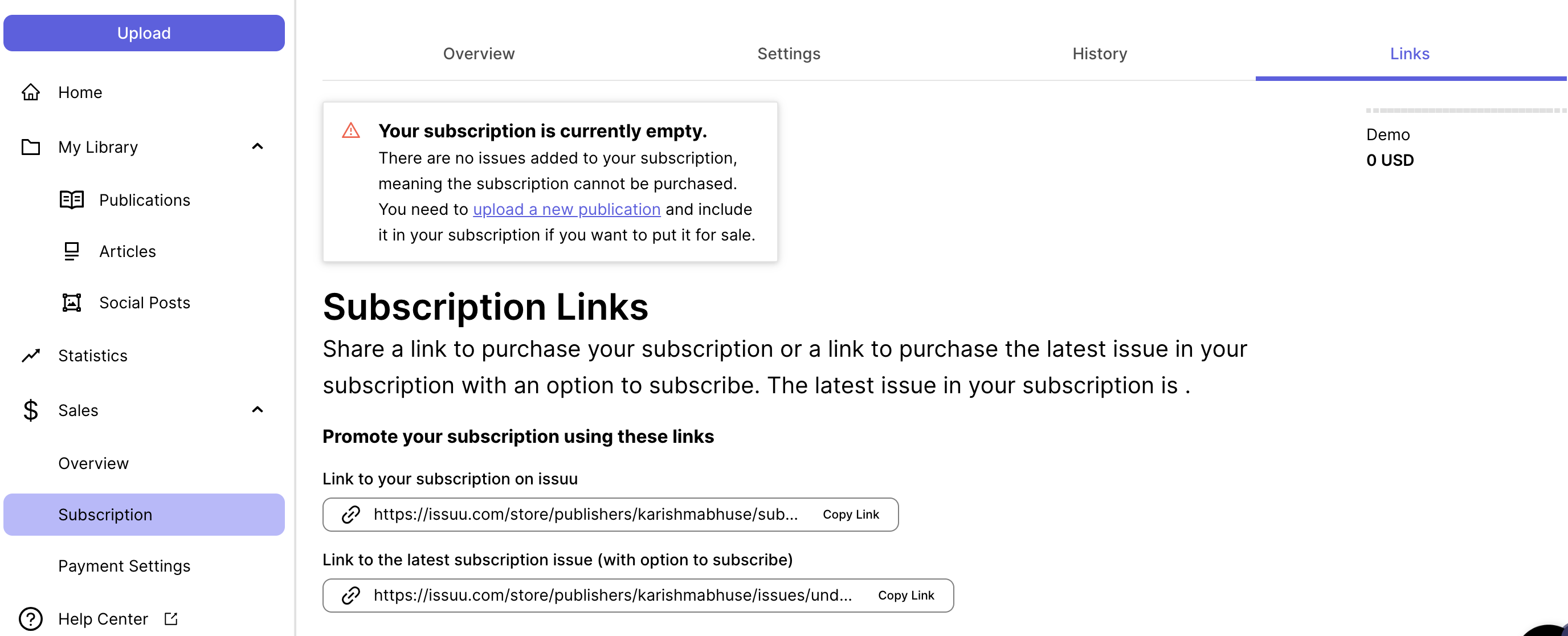 Your subscription is set! Every reader who purchases the subscription now will receive the current issue and the upcoming ones until they reach the subscribed amount of issues.
NOTE: If you set the subscription frequency, remember to add the new issues to the subscription on this basis. Every time you put a new issue for sale as a part of the subscription, the subscriber will receive this new issue under their subscription.
Stop Selling a Publication
You can stop selling content on Issuu at any time. 
 To stop selling a publication on Issuu:
1. Go to Publications from Side Navigation Menu and select the publication that you do not want to sell anymore
2. Click on Sell under Side Navigation Menu
3. Remove the checkmark from Make available for purchase
4. Finish with Publish on the publication settings page
The publication will automatically revert to its original state.

NOTE: Anyone who has already purchased your publication will still be able to access their copy from the Purchases section in their Issuu account.
What happens to my for sale publications if I downgrade

If you downgrade to the basic free plan, the publications that you have already set for sale will keep on being for sale.
Your readers will still be able to purchase them and read them in their Purchase section.
However, you won't be able to make any changes to the document.
For example, if you need to re-upload a new version of the document, you won't be able to set the new version for sale.