There are two different ways to sign up for or create an issuu account. The first option is to sign up manually with a custom username chosen by you. The other option is to use one of the social media sign-up methods, such as Facebook or Google.
Manual Sign-Up
To create an Issuu account from a desktop application (not mobile) with your custom username:
1. Visit the Issuu Pricing page.
2. Choose a plan.
3. Follow the on-screen instructions to create your account. And voila!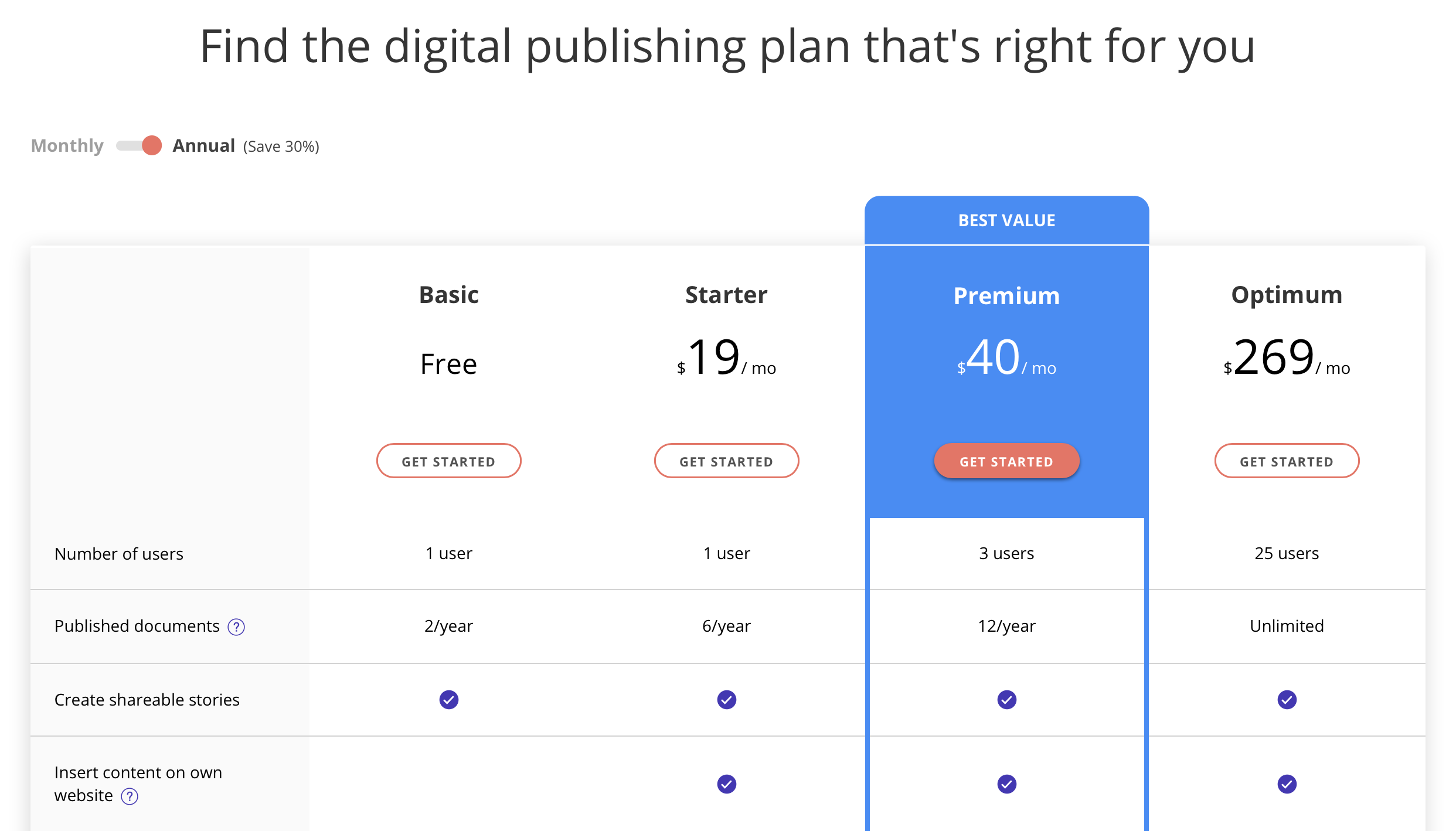 Social Media Sign-Up
1. Go to the Sign-Up Page.
2. Choose the Facebook or Google logo and log in using your login credentials for that account.
3. Your chosen site will ask you to confirm the new Issuu account. If all looks good, confirm and you will automatically be signed in to your new Issuu account.
4. When you sign up via Facebook or Google+, you are asked to submit your email to us. We have to ask for it for legal reasons.
New Free Publisher Sign-Up
If you are creating an account on Issuu as a free publisher, a verification code will be sent to your Issuu linked email address before you access the account. Follow the instructions in the email to get started on Issuu.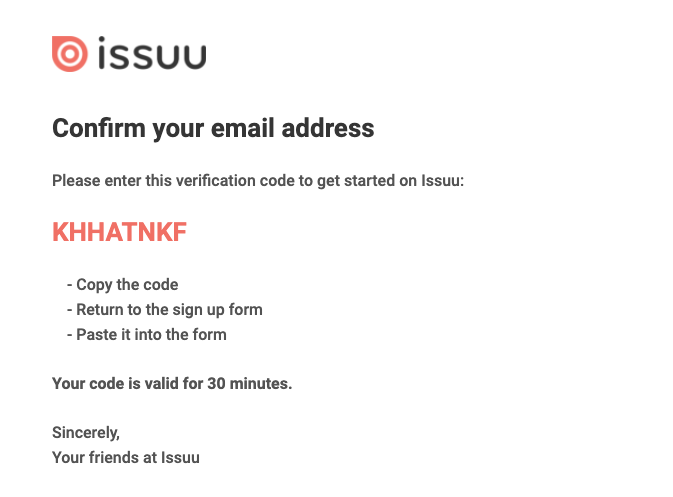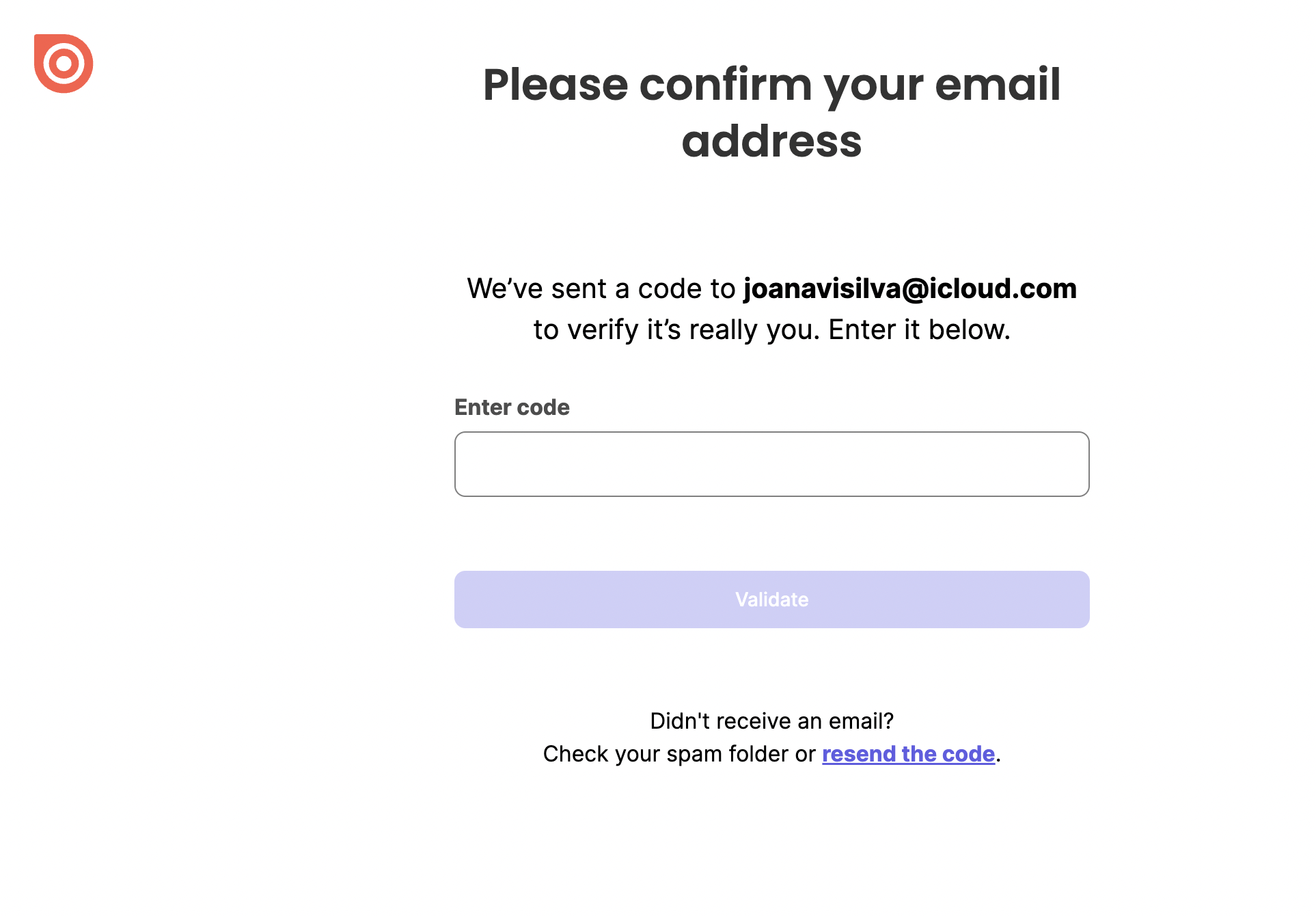 If you do not receive a Verification Code Email in your inbox, please make sure to check your SPAM folder as well as the UPDATES section of your Gmail.
If you do not receive verification emails from us, we advise you to whitelist our sender which is no-reply@issuu.com. This way we would also ensure, that you can receive our invoices, digest, campaigns, etc.
About Issuu Usernames
Your Issuu username is also your account URL/profile link (e.g. issuu.com/john_doe). When signing up manually, you are able to choose a custom username. If using the social media buttons to register, we will auto-generate an Issuu username based on your information.
Unfortunately, you cannot change your Issuu account username once it has been established without deleting your account and signing up for a new one. Please see Change your Issuu URL for more details on this topic.
Email and Notification Settings
When creating an Issuu account, you agree to receive notifications about important product updates and changes. To learn more about the nature of the emails you may receive as well as to learn how to unsubscribe, please see Unsubscribe from Issuu Emails.
We will not share your private information with third parties as per our Privacy Policy.