There are two different ways to access your individual Content Level Statistics:
Through your Publications List
Via Account Level Statistics (Premium and Optimum users)

Through your Publication List
1. Go to Publications from Side Navigation Menu and select publication whose statistics you want to view
2. Click Statistics to view statistics for the specific publication
Via account Level Statistics 
Go to 

Publisher Dashboard
From here, click on

 

Statistics

 from Side Navigation Menu 

Select the Publication for which you want to see statistics from

 

Publications

 

drop down menu
On Account level statistics, you can see statistics for all content published to your account, both Publications and Stories. You can select what content type and date range you're interested in from the top of the page and it will be reflected in the totals and graphs below.
To view statistical history which is older than a month, you need to subscribe to either Premium or Optimum plan. Under these plans you can:
View your statistics by specific date range or time period

View stats on individual documents, reads, views and impressions, and more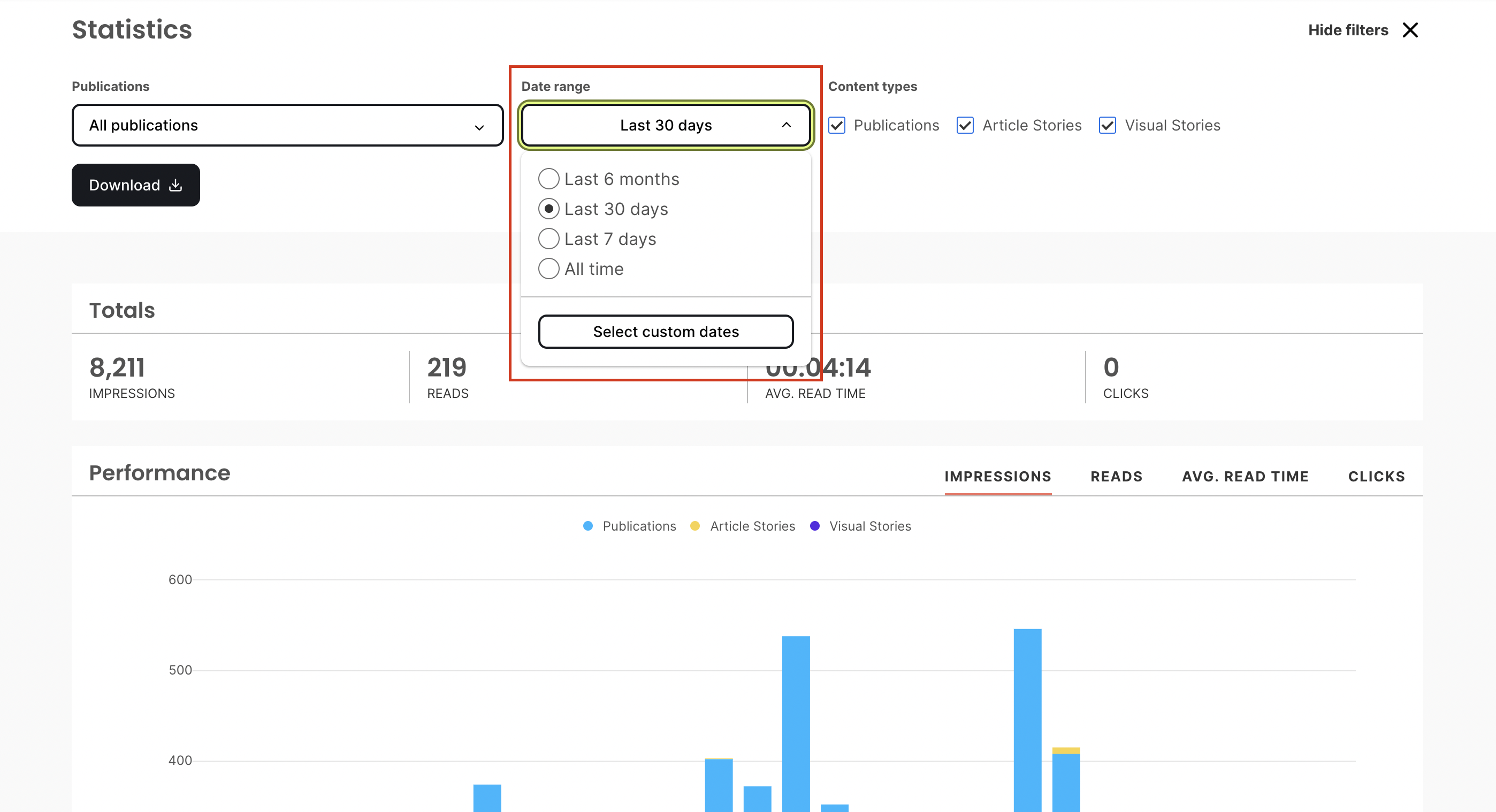 Please read article for more information: Statistics for a Specific Date Range for more details.
In the top left corner, you'll find a drop-down list showing your 10 latest publications. By choosing one you'll see the statistics for that specific publication.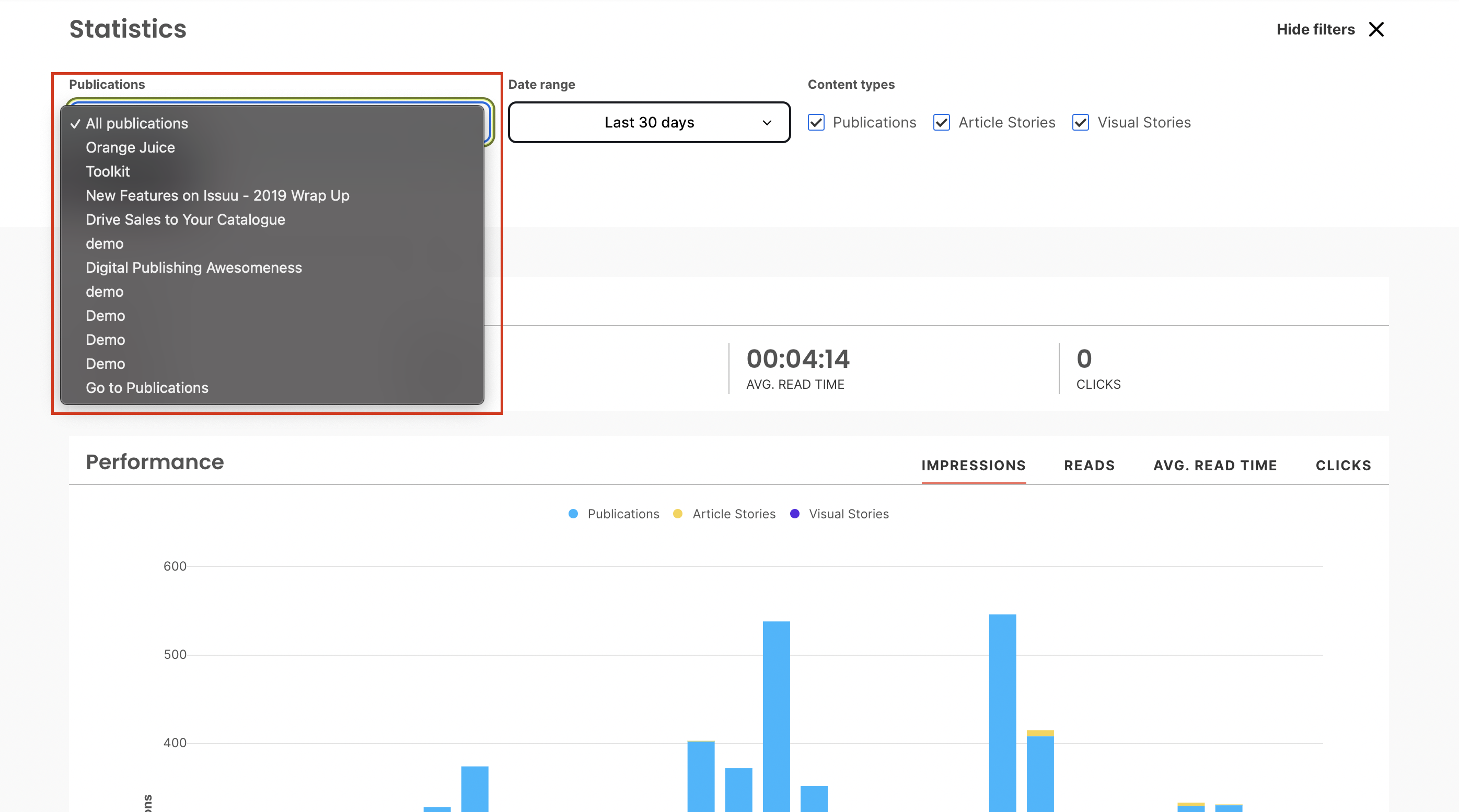 NOTE: The graphs for Reading Devices and Readers Around the World will not include statistics for Article.
With Premium or Optimum subscription, you can access page-level stats by navigating to the statistics page of the desired content. This gives you greater insight into how long readers are spending on particular articles or content. To do this:
Select the content for which you want page-level statistics from Publications drop down menu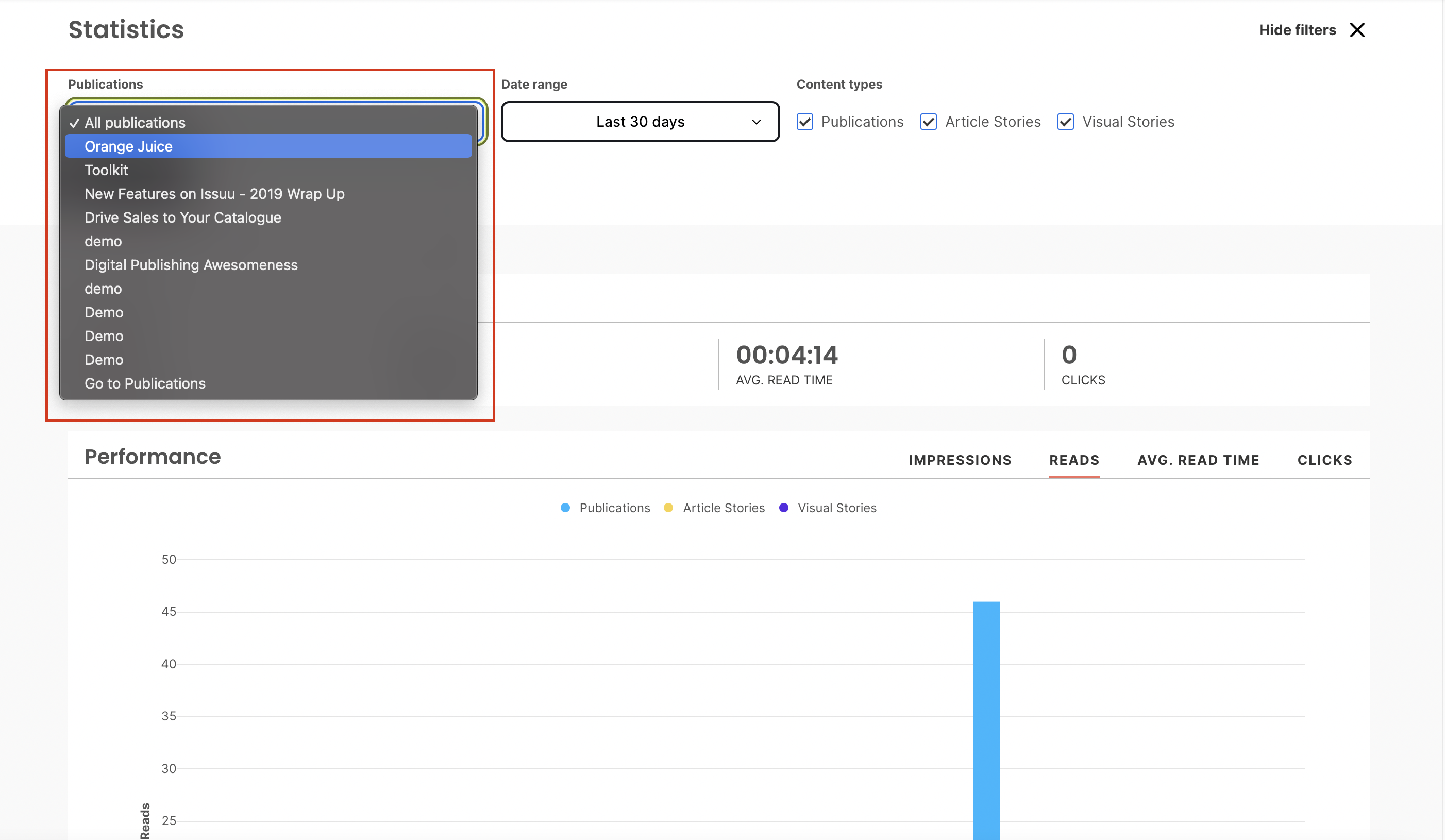 Scroll down to the Pages and you'll be able to see how many reads and impressions each page has for the selected time period as well as the read time and average read time.
The number of times the links which are created and inserted by publishers in their content have been clicked are also tracked. You can find this information under LINKS.
To access LINKS Statistics, you need to subscribe to the Premium or Optimum plan.
First access your

 

content level statistics

Scroll down to 

LINKS

 

and you will see how many times each link has been clicked and how many impressions they have had