Once you sign up for the Issuu account, you are just a few steps away from publishing your content to a large audience.
Drafting Your Content
Use our Drafting feature to preview and prepare your document for uploading.
1. Login to your Issuu account, click on Upload button (this will take you to the Publication Workspace).
You can also drag your files directly with the drag and drop feature, or add them from Upload a file, Google Drive or Dropbox.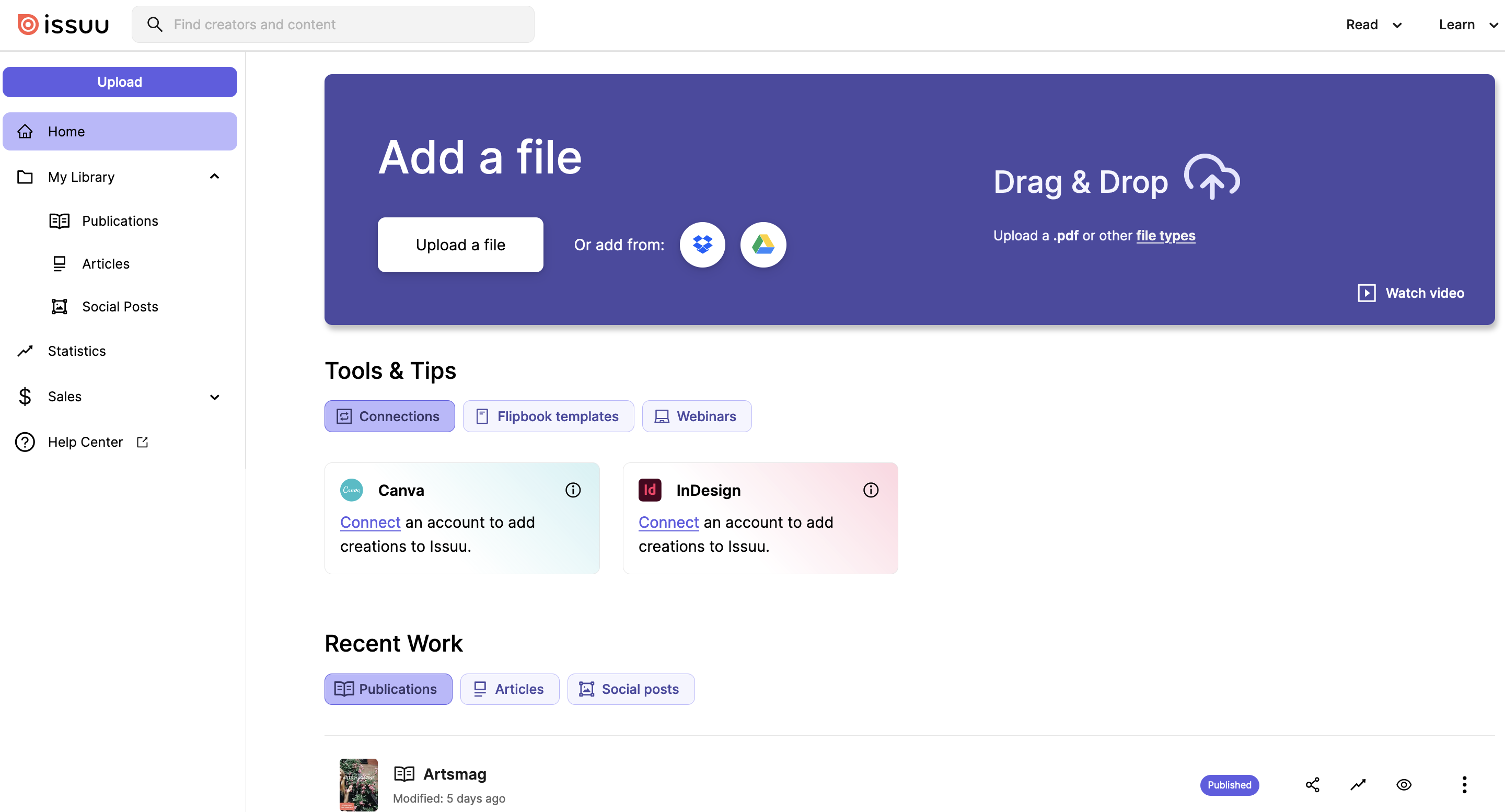 2. If using the Upload button, choose from Upload a file/Dropbox/Google Drive to upload your file.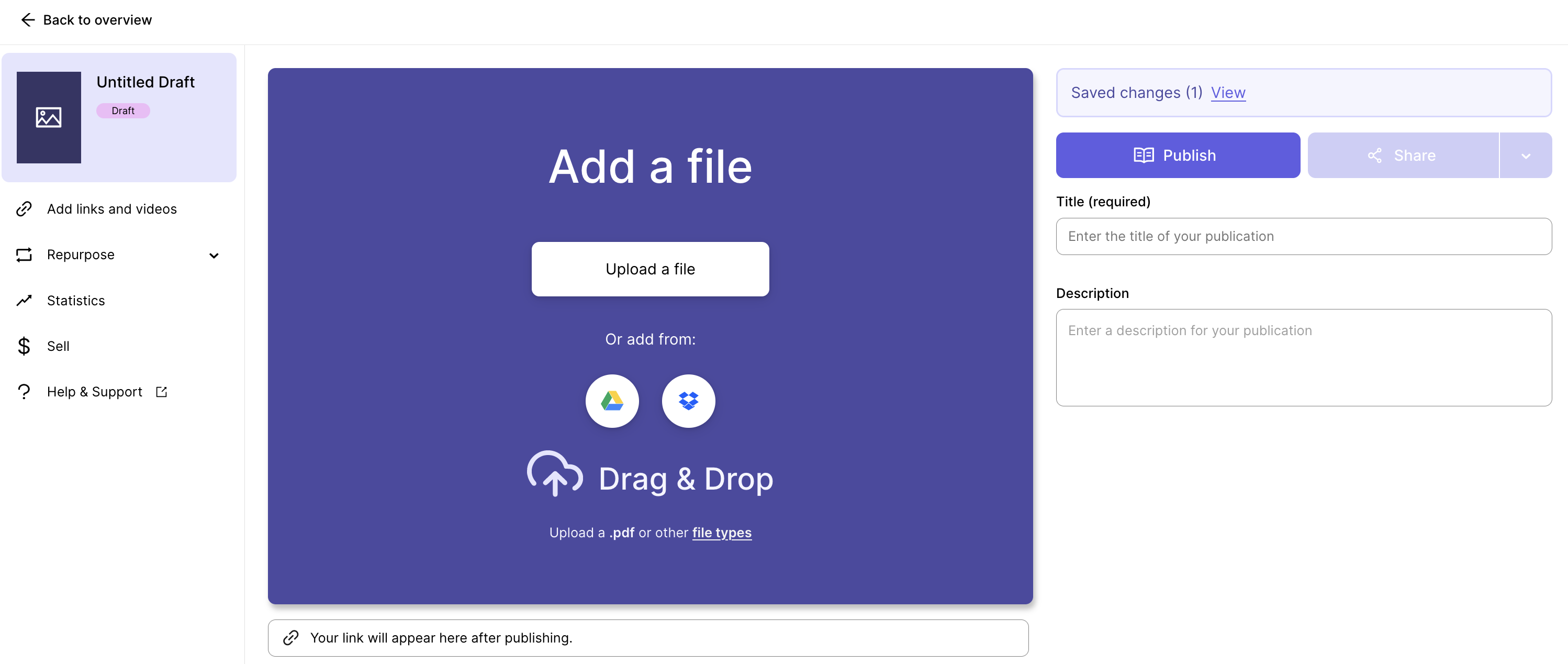 3. Once you have selected a file, it will go through different steps of the conversion process. When your file is fully converted you can see how your content will appear in the Issuu reader.
4. Your content is now saved as a draft and will be available for editing. All drafts can be found in your DRAFTS
To Upload from Dropbox 
Select Dropbox to upload file

Login to Dropbox (If you are already logged into Dropbox, it will directly take you to your account)

Select file to upload
To Upload from Google drive 
Select Google Drive to upload file

Login to your email account from which you want to upload file (If you are already logged into your email account, it will directly take you to your drive)

Select file to upload
Publish Your Content
The document can be published once you have confirmed that you own the rights to the publication and other rights, to distribute this content publicly.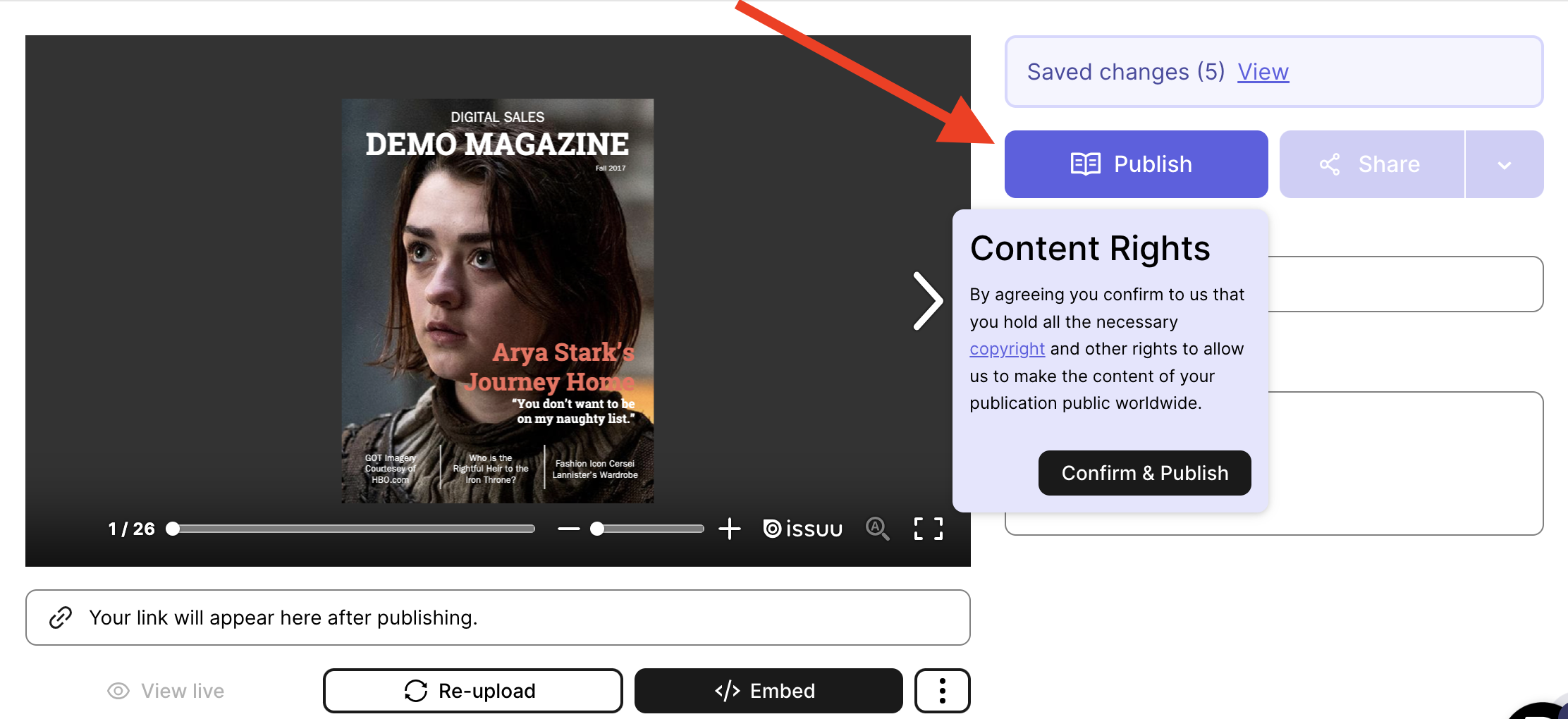 While you are waiting for your content to convert it's time to fill out information for the content:
TITLE - a title is required for the work to be published
DESCRIPTION - a description is optional, however adding a detailed title and description will help readers to see better understand your content.
BACKDATE - setting a backdate will affect the order of your content on your Publication List and on your profile page
DETECTED LINKS - as part of the Premium and Optimum subscriptions you can enable detected links. Learn more about what type of links can be detected here
AVAILABILITY - here you need to choose if you want to make your content Public, so it's available everywhere on the web, Unlisted, which means that only readers with the link can see the content, or Schedule your content to be published later if you're a Premium or Optimum subscriber. If you schedule your content, until it gets published it will be accessible under SCHEDULED.
DOWNLOADS - with a Premium or Optimum subscription you can make your content downloadable on Issuu.com and in your embeds
ADVERTISEMENTS - all banner ads will not be shown beside your content on Issuu.com or in our apps if you're subscribed to the Premium or Optimum subscription. 
Once you have finalized your selections, click Publish to publish and you will see your beautiful Issuu publication!  All your published contents are available in the PUBLISHED section under Publications.
------