What is Unlisted Content
An Unlisted content is excluded from issuu.com search engine and community

but is accessible only to those with a

document URL

It gives you an opportunity to test how your content works and looks before it goes live.

Currently, we do not offer password protection for the Unlisted document URLs. So, we highly recommend, you do not share document URL publicly, as another search engine might discover and index it, effectively making it Public.

If you want to set your content to

Unlisted

, Issuu plans come with a limited number of

free Unlisted

documents

except Optimum

plan.
To find out how many Unlisted publications is included in each plan, please visit our Pricing Page.
Publishing Content as Unlisted
When you upload content to Issuu, scroll down to Settings

, select

Unlisted
Click Publish changes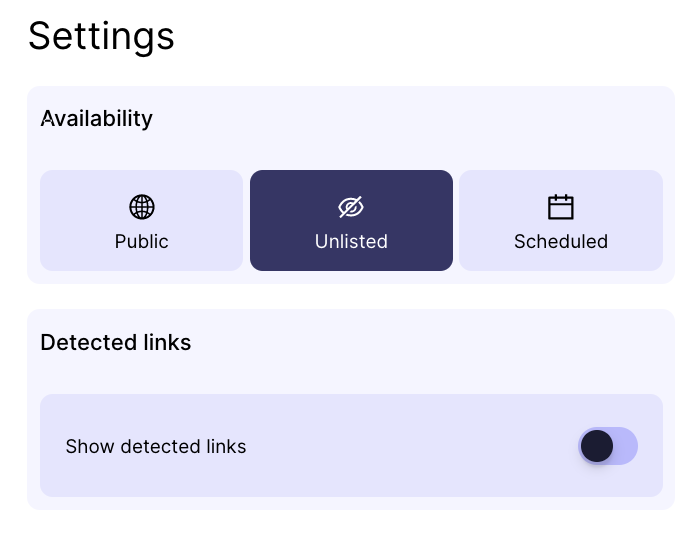 3. Once the content is published, it will appear in your Publication List. Unlisted content is tagged with a Grey Unlisted mark as shown below

There are several options to create space to upload more Unlisted content to your account:
Make some of your

Unlisted

content

Public

by publishing them.

Go to

Publications

from Side Navigation Menu and click the Publication you want to

make

Public
Scroll down to Settings

Select

Public

Click

Publish changes

Delete unwanted Unlisted content (that is old or no longer needed) from your

account.

Please see the article for more information:

Delete your Content

.
Lastly, once the document is published as Public on Issuu, the content will be live and available for everyone to view. The Public Content can not be changed to Unlisted as it is already indexed by various search Engines.
However, if you still want to make your Public content Unlisted, a workaround would be:
1. Download the document which is made Public and delete it from your Issuu account
2. Change the file name of the document you downloaded. (Filename becomes the part of the document URL)
3. Upload the downloaded document as Unlisted Content. (This will give the content a different document URL and ID)