If you are interested in a refund for your prepaid service, Issuu is currently accepting -- but is not obligated to honor -- Annual plans refund requests made up to 30 days after the charge is made. However, if you have already disputed the charge with your bank or filed a chargeback, we will not be able to honor refund requests related to the charge.  We do not offer refunds for Monthly plans.
Issuu is a self-service subscription platform, it is ultimately each individual's or company's responsibility to track of all paid subscriptions and cancel them if no longer in use.  
An Issuu subscription renews automatically at the end of your billing cycle, and the payment source on your account will be charged automatically. This is clearly stated when you confirm payment after adding a service to your account.
To prevent future charges, downgrade your account to our Basic (free) plan before your next recurring payment date.
NOTE: We do send a renewal reminder email for all annual plans 30 days prior to your renewal charge. We send this email to the primary and billing emails listed on your account.
Deleting Your Account With a Paid Plan
Unfortunately, deleting your account with Issuu doesn't prompt an automatic refund.  If you would like a refund, please submit a refund request.
TIP: Since we cannot guarantee a refund, we highly suggest that you do not delete your account with Issuu once you've been charged.  If we are unable to honor your refund, we would at least like your Issuu account -- that you have already paid for -- to be available to you.    
Credit
In certain situations, you can be issued a credit back to your Issuu account.  The credit will be applied to future invoices, so you will not be charged. However, you will be charged during the next billing cycle after you run out of credit.
Partial Refunds
We may also offer partial or prorated refunds.  In other words, we can refund the remaining amount from when your account was first charged, rather than a full refund. If we decide to offer a partial refund, we will gladly offer an explanation once we reply to your refund request. 
Unauthorized Charges
If you believe you received an unauthorized charge from Issuu, please submit a request below.
Downgrading Your Plan
To downgrade to our Basic (free) plan, please see Cancel your Subscription for more help.
Submitting a Refund Request
You can submit the request directly from your account ( How to get help? / Contact Support ) or by sending a message to an email address provided on your invoices.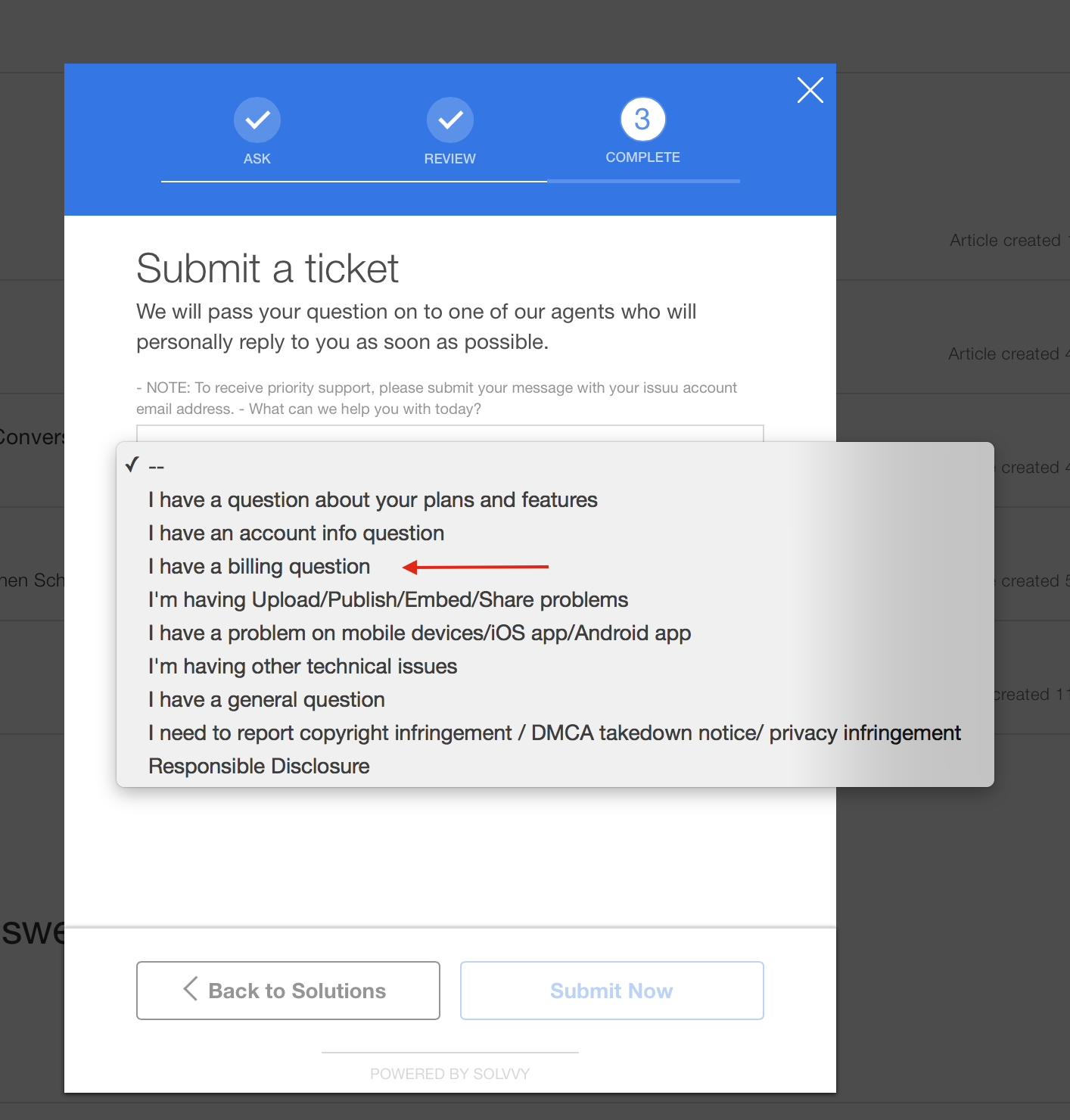 If you have more billing related questions, you can find our contact information on your invoices.