Issuu provides the feature of adding web, video and shopping links in your content, which helps readers to interact with your content and learn more about your brand.
When hovered over, links within your content show up as blue outlines around ads, videos and images with icons to direct the desired interaction.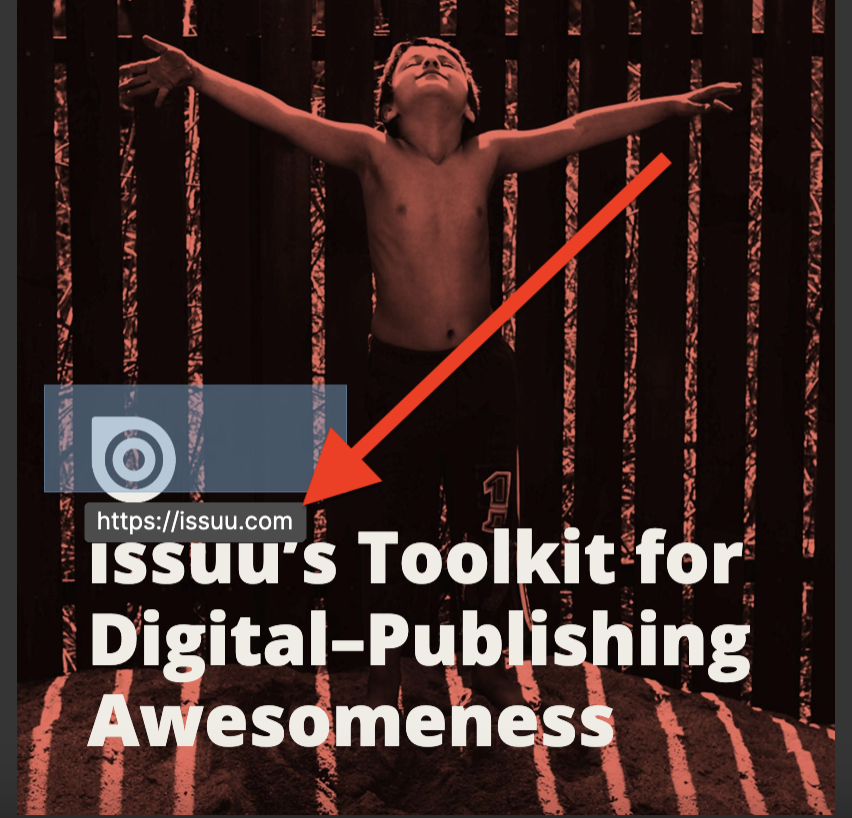 Link editor is accessible on the latest version of Safari 13.1.1 and other different browsers. It is not accessible on older Safari versions. 
NOTE: If you add links in your content through Issuu Add Links & Video feature, those links will not be available in the downloaded version of the content, because Issuu does not modify the original file. 
Adding Links in Your Content
Go to Publications from Side Navigation Menu

Select the publication you want to update and you will be directed to Publication Workspace

Select Add Links & Video

It will open the Link Editor and then select a page from your publication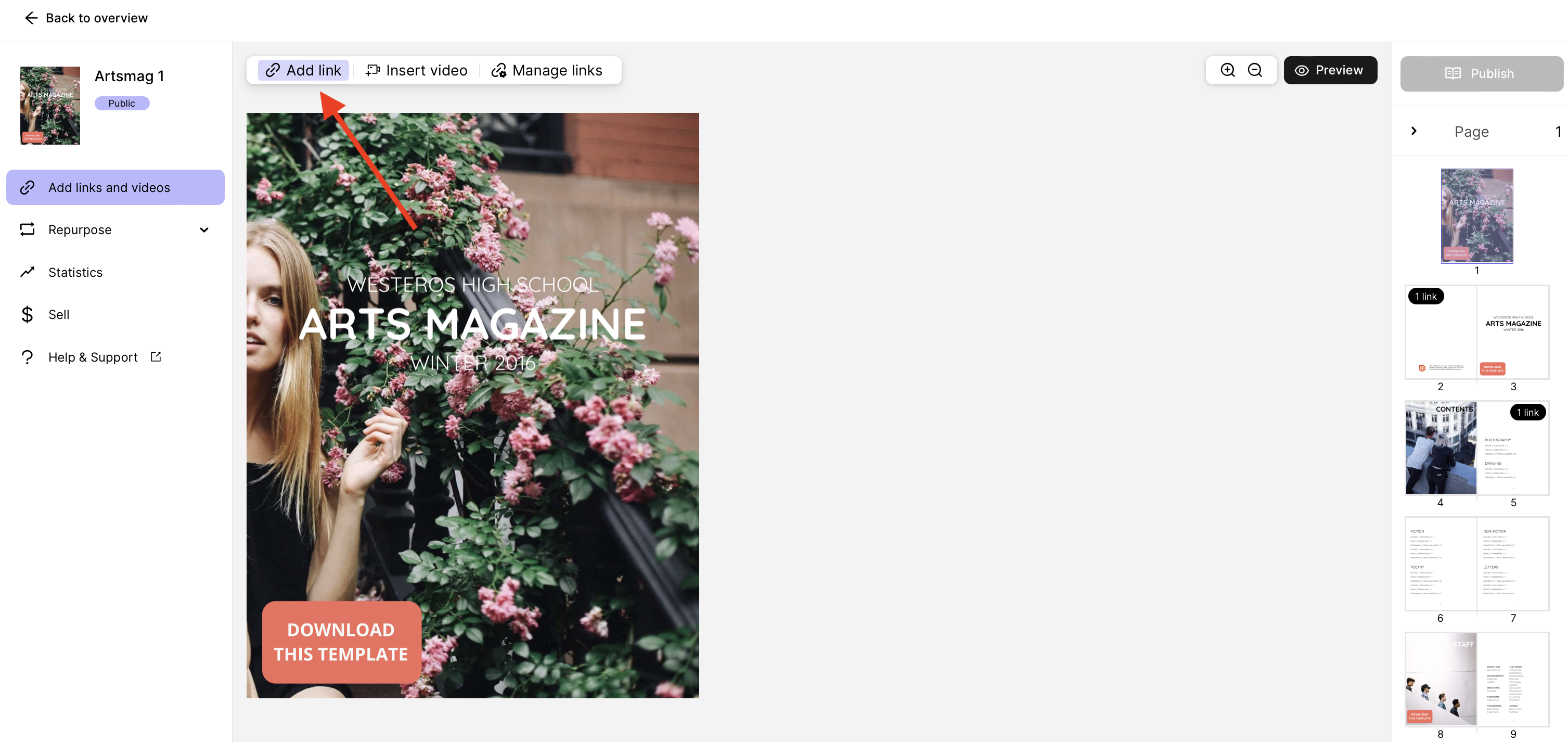 1. WEB LINKS
Select Web for web links
Insert web URL

Click Save

and

Publish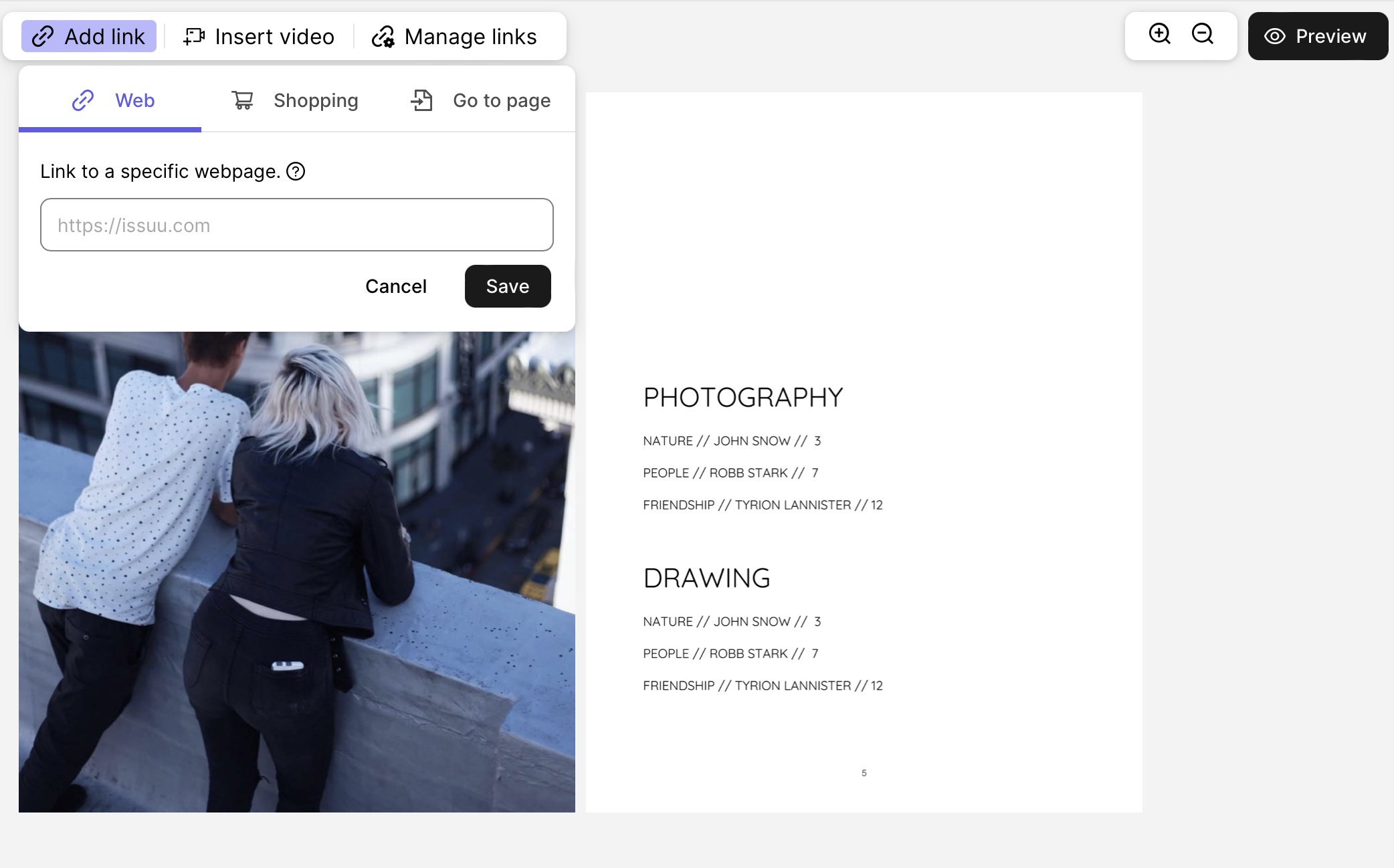 2. SHOPPING LINKS 
Select Shopping for shopping links
Insert shopping URL (Link should be at least 50x50 px to show any icon)

Click Save and Publish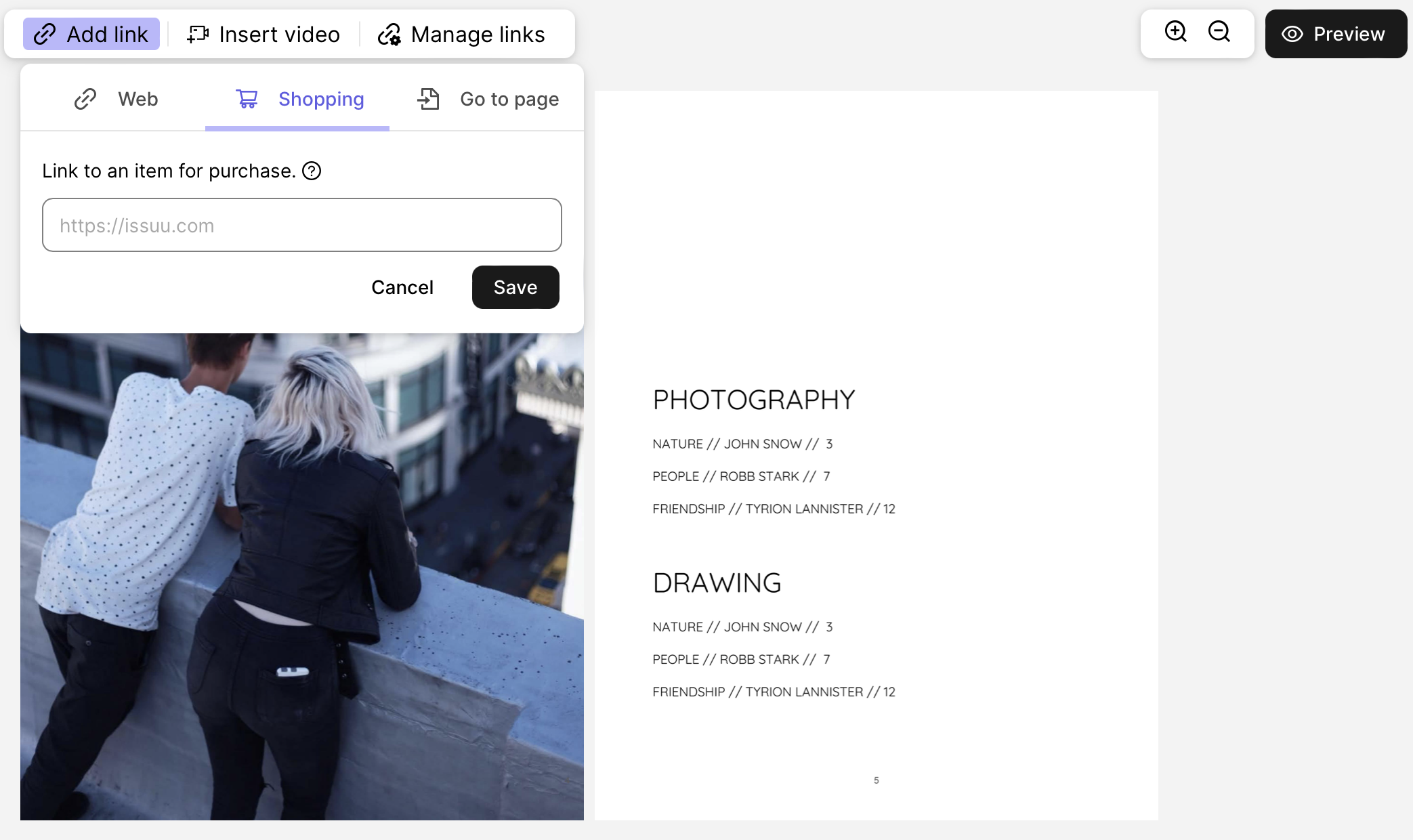 3. GO TO PAGE (In-document) links
Select Go to page if you want to redirect your readers to other pages within your content (Creating In-Document links)
Select the option from the drop down

If it's a specific page then provide page number

Click Save and Publish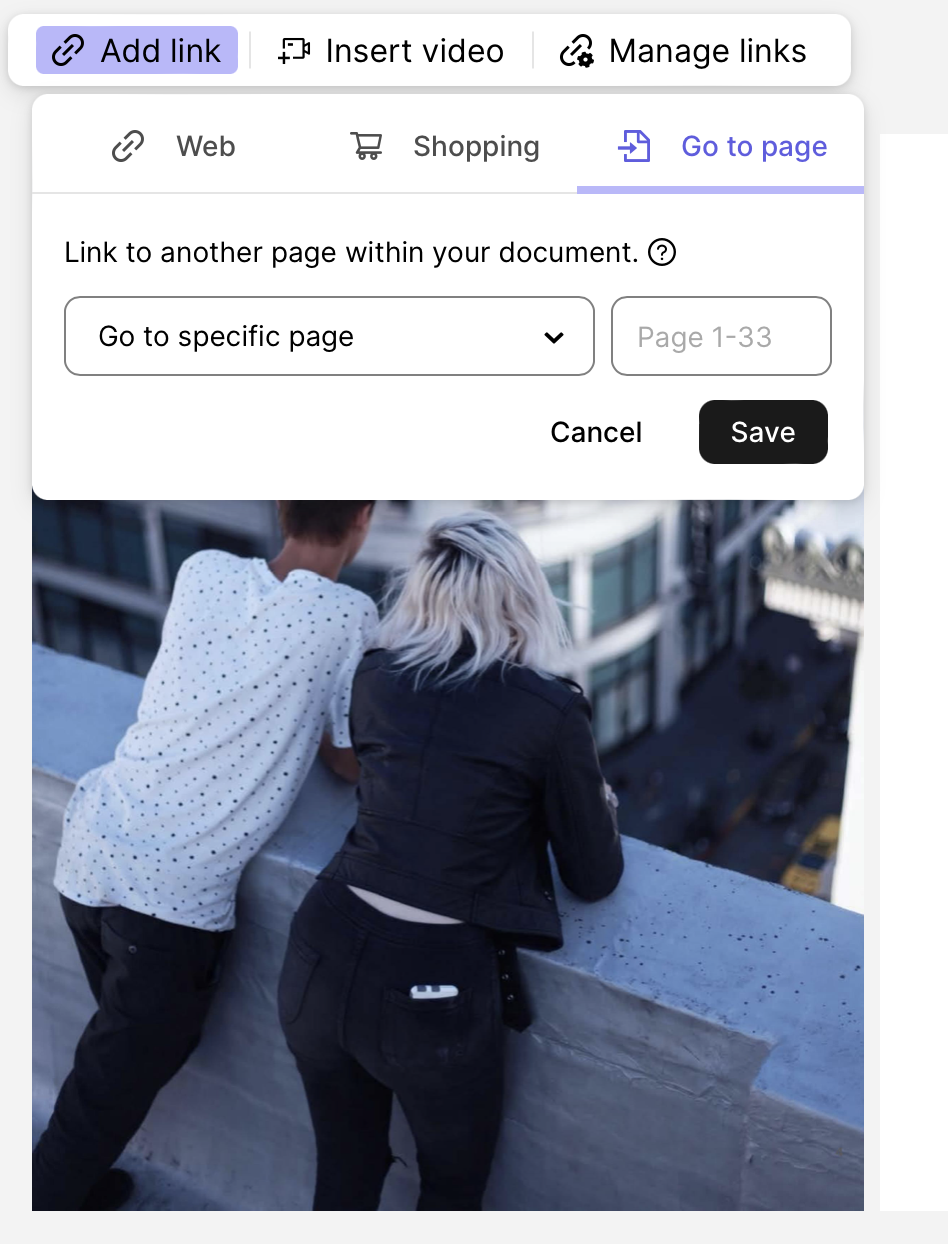 .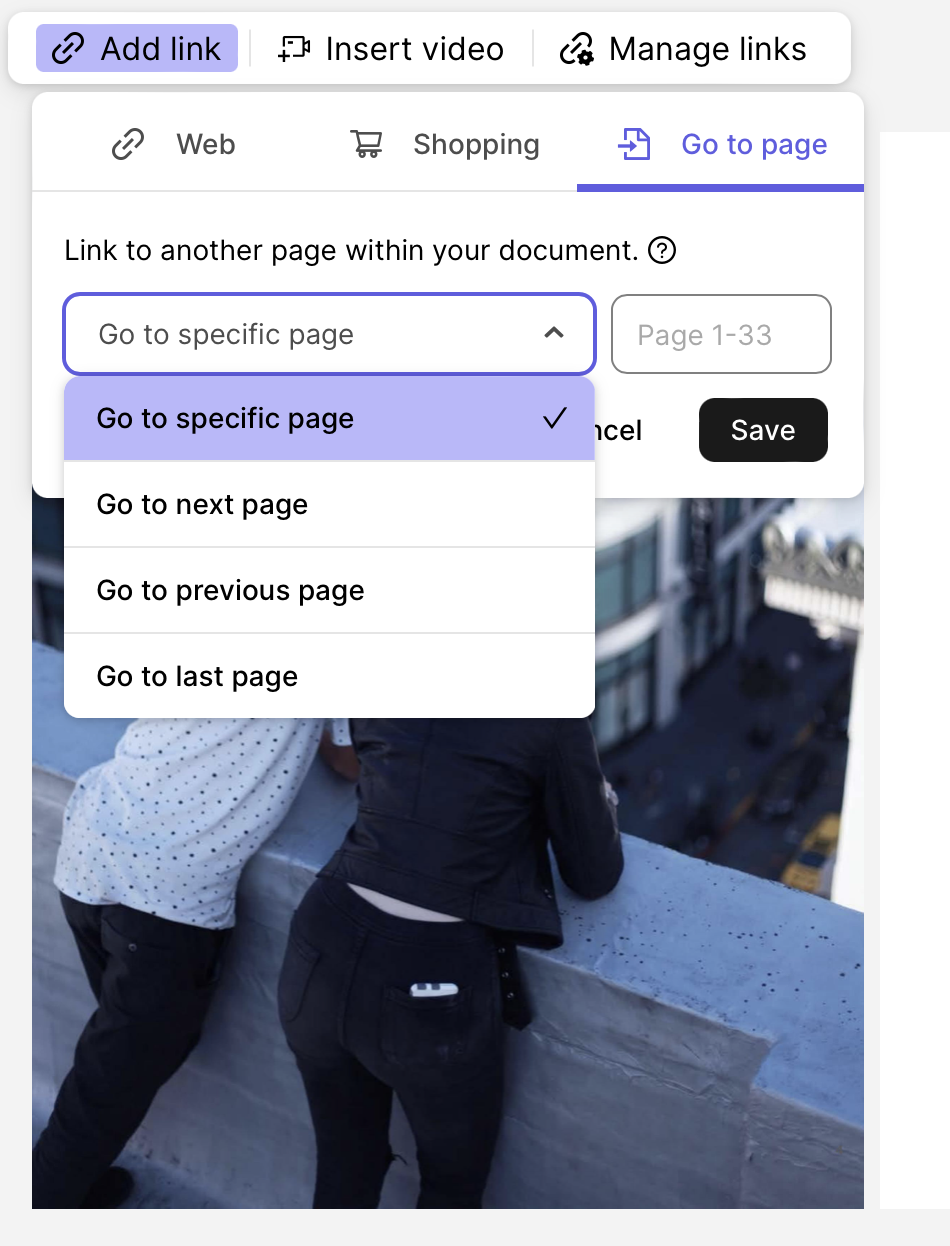 4. Video Links
Select a page from the publication and click on Insert Video
Insert the URL and select one of the options from 
Play in Overlay (Available on all plans) -

It will make your content interactive. Once the reader click play button, the video will play in an overlay.

Embed in Publication (Available on Premium and Optimum plans) -

The reader has to click the play button to start the video.

Embed in Publication and Autoplay (Available on Premium and Optimum plans) -

The video will play automatically as soon the reader turns the page of the content.
      3. Click Save and Publish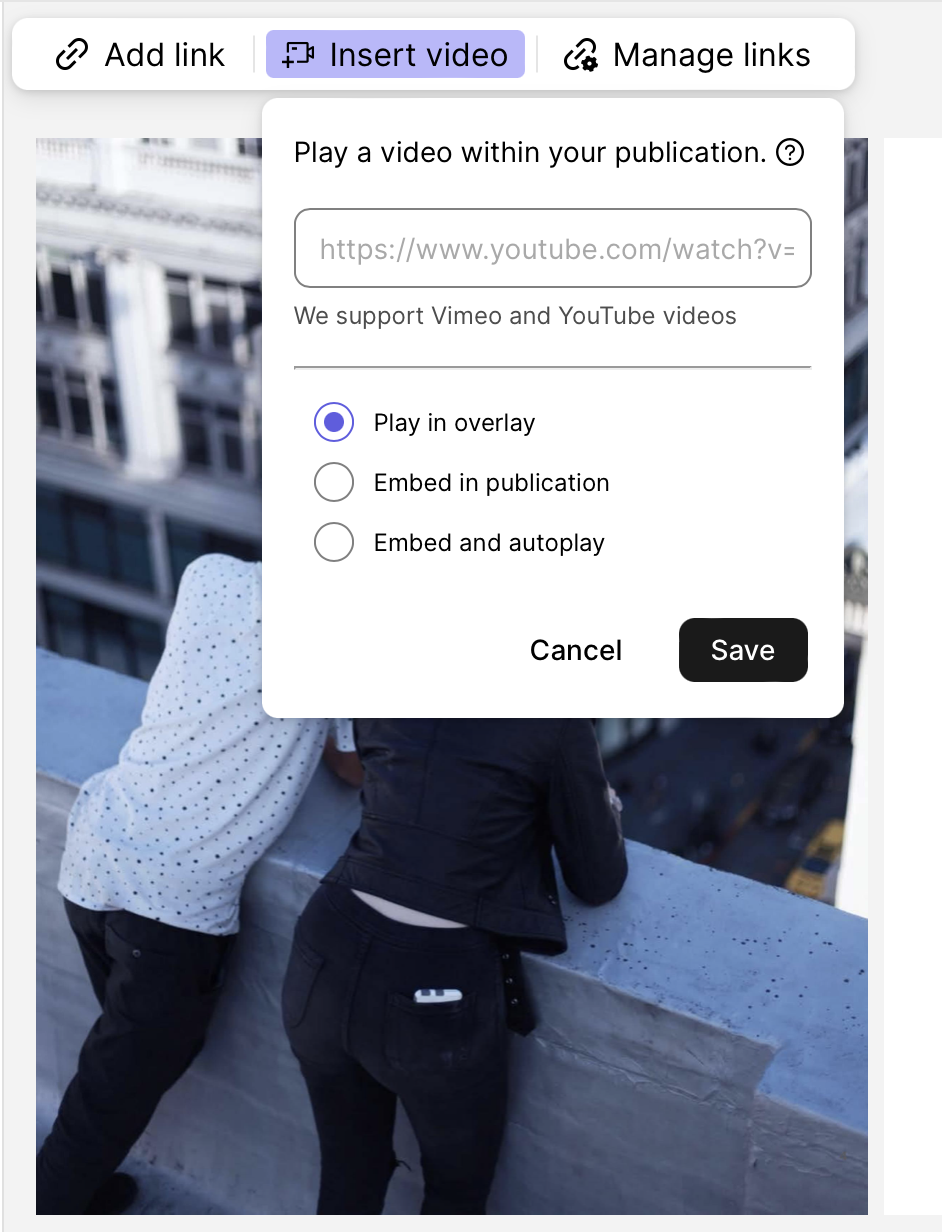 5. Manage Links
You can convert links to Shopping links, Web and Video links or In-Publication Video links on a specific page by selecting page numbers or in an entire document. Basically you will be able to convert multiple links to another type all at once.
Select

Manage links

at the top of the Links Editor

choose the type of link to convert, and apply changes to a specific page or the entire document

Click Save

and

Publish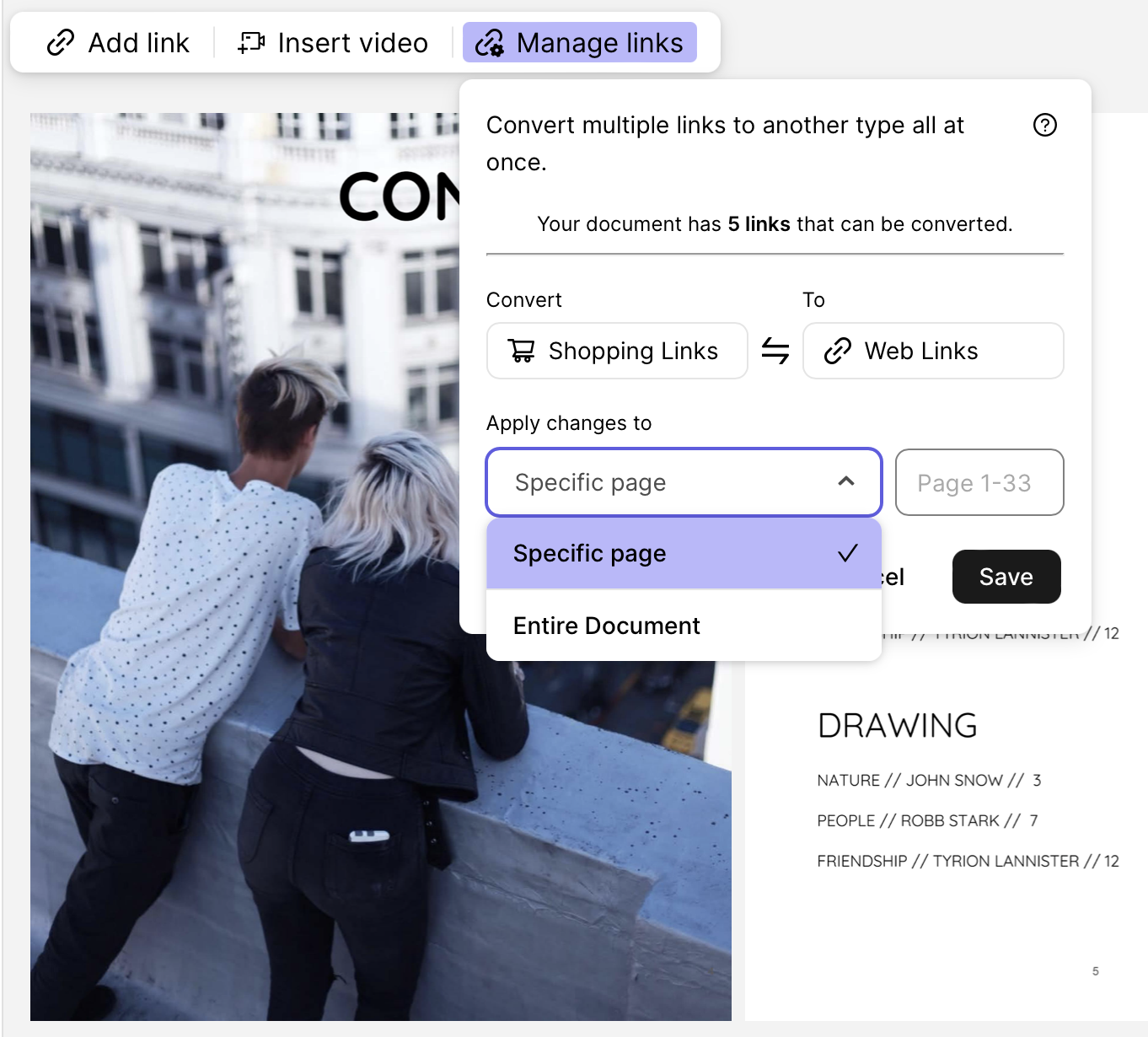 Remember, links added to your publication through Issuu feature Add Links & Video will be overwritten during re-uploading the document. Only links created in the document using a link creation tool before uploading to Issuu will be included again after updating or replacing document.
Preview and Zoom in/out
You can also preview your changes and zoom in/out.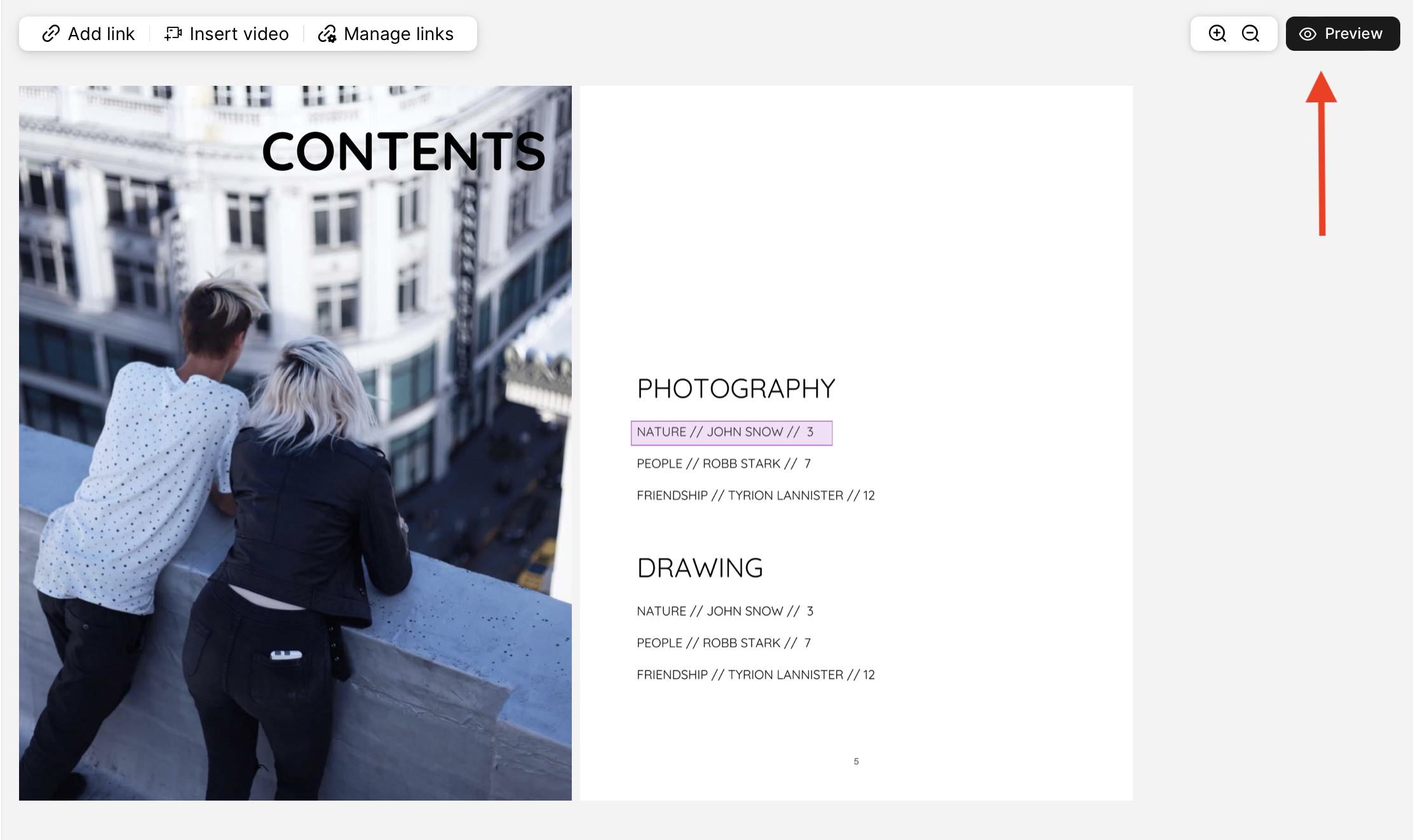 Best practices for Adding Links to your Content
a. If you're selling content, please note that Youtube videos cannot be embedded behind a paywall following their terms of service. You need to seek approval from Youtube directly before you embed videos on pages that are not part of the free preview pages.
b. To embed and autoplay video, it should be at least 210x120px or 120x210px. Videos will always play in overlay if there is not sufficient space to insert the embed. We recommend to widen the space to embed videos properly. For the best experience on pages in portrait mode, the video should span at least 2/3 of the page width or half of the page height. Embedded videos autoplay only on desktops. Mobile web is not supported at the moment.
c. Videos must be available publicly both on Youtube and Vimeo. Private/non-published videos won't play either as embedded or in the overlay. 
d. Many browsers do not let you autoplay with sound on or autoplay at all i.e. why a video set for autoplay, starts on mute. Take a look at:
https://developers.google.com/web/updates/2017/09/autoplay-policy-changes
Clicking on play is a willing action on behalf of the reader. If you simply use embed in publication video option, then the video will not be muted when the reader will click to play it.
 If there are more than 2 videos on a single page or in spread, then only one will be autoplayed. 
NOTE: If you leave a page without saving links, the links will not be saved for when you return. Once you click on Save, you can move away from the Link Editor and the links will be available when you return.
The links will only be shown in the live version of your content once you've published your saved links.