When your Issuu plan is downgraded to Basic, which is our free plan, paid features – like unlimited uploads, embed, fullscreen sharing, unlisted publications allowed documents size, and more – will stop working. This will also happen if your subscription expires and your account is automatically converted to a Basic plan.
"Publication access is currently limited" -  Issuu's Basic plan limits document uploads to 5 documents, 50 pages and 50MB each; if your publications exceed either of these limits, they will no longer be available for viewing beyond the cover page.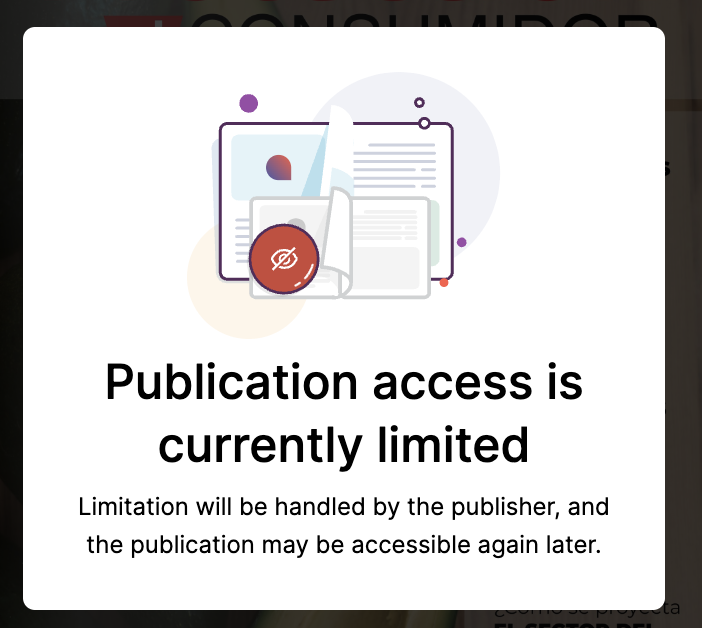 The original publications will not be deleted, however. They will remain stored in your account until you upgrade your plan type again.
Here's what the downgrading process to Basic will look like:
5 published documents; if you have more than 5 publications on the account, only the five most recent documents will remain accessible to their audience
Publications presented in the Issuu reader window that exceed the Basic limits (50 pages, 50MB) will show only the cover without the option to flip to subsequent pages

Embedded publications will redirect readers to the Issuu platform; if the publication exceeds the Basic limits, only the cover page will be shown in this instance as well without the ability to read further

Embedding will no longer be available.

Fullscreen sharing will not be available and previously created fullscreen sharing links will redirect readers to the publication in the Issuu window.

Unlisted (private) publications will stay hidden, however, links to any unlisted publications will prevent viewers from reading beyond the cover page.

Statistics will be limited to 30 days (historical data will be made available once you upgrade to a Premium/Optimum plan again).

Embedded videos will stop playing inside of your publications and will be reverted to videos in overlay.

The option to download your Issuu publications will be disabled.

The webpage surrounding your publications will show 3rd party ads.
You can always delete your documents to make space for the new content (either newly uploaded or historical). If you delete content and have less than 5 documents, the new document is available instantly. 
However, if you delete one of the recent documents and want to make one of the previously locked documents available, it may take up to 30 mins for the documents to become unlocked. 
In order to restore full access to your content and Issuu's paid features again, please upgrade the plan type on your account. Visit https://issuu.com/pricing or contact our Sales team to learn more about the features included in each plan.  
If you have more billing related questions, you can find our contact information on your invoices.